Kathy Schmitz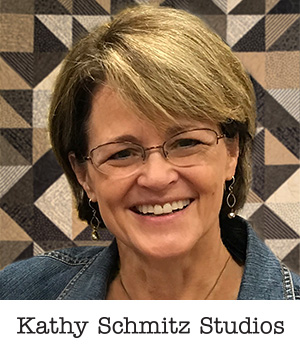 Pursuing her dream to make a career out of her artwork and illustrations, Kathy Schmitz took her quilt-themed greeting cards to Quilt Market in 2002.  That's where she was discovered by Moda Fabrics.  Her first collection, Cozy Comforts, debuted later that year.
The youngest of three girls, Kathy was always drawing and painting, often illustrating the stories she wrote with her artwork.  With accomplished seamstresses and quilters in the family, she made her first quilt when she was 13 years old using her grandmother's old treadle sewing machine.  It was only natural that she studied graphic design and painting in college.
The style of illustration that has become her signature came about when she wanted something new to hang over the mantle of her home at Christmas.  After digging out the three tubes of paint she had leftover from collection, she painted a picture of her house in a snow scene and promptly fell in love with the type of artwork.  Having only one house of her own, she began paint pictures of other people's homes.
Kathy added embroidery to her repertoire in 2007 – picking up a hobby that she'd first learned to do in 2nd grade.  The line drawings of embroidery were so well-suited to her artwork that she began designing embroidery to coordinate with her fabrics.  Designing quilts – including many that incorporated her embroidery designs – came less than a year later.
A little cottage in Portland, Oregon that she shares with her husband and best friend, Steve is the house in Kathy's latest drawings.  Her two grown boys visit often – she's a doting Mom who beams with pride when asked about them, happily saying that they're always in her heart.
Downloads
Classic Basics Metro Style Rubystar Christmas