UnBoxed - Christmas Morning
UnBoxed - Christmas Morning
Christmas Morning.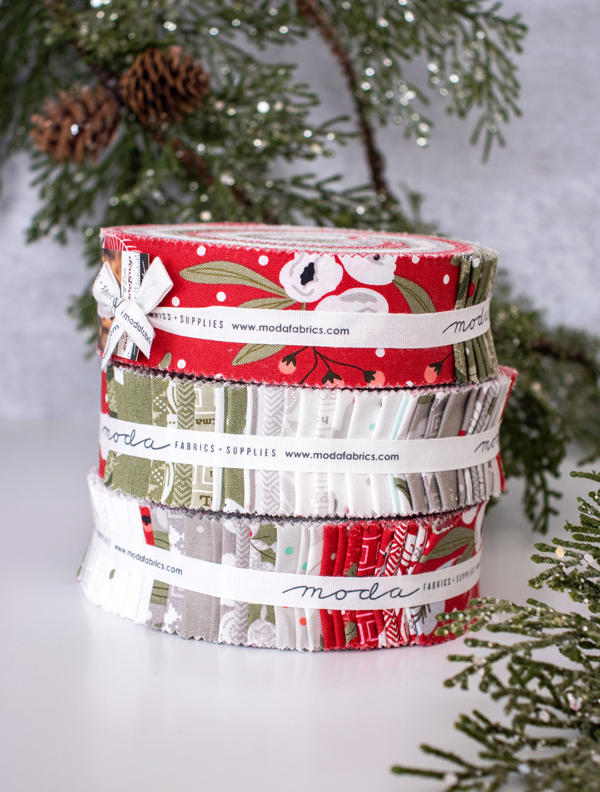 No matter how old we become, Christmas always brings a thrill of hope. Think of a morning of freshly fallen snow, cozy slippers, and happy little tiptoes down the stairs. Grab a mug of hot cocoa, snuggle up in a handmade quilt, and take in the spirit of comfort and joy around the tree. The Christmas Morning collection is a scrapbook of all the best feelings of the holiday season. Bring serenity home with the sweet sprigs of holly, turtle doves, twinkly stars, yuletide stripes, and wintery bouquets of cranberry, sage, and silver.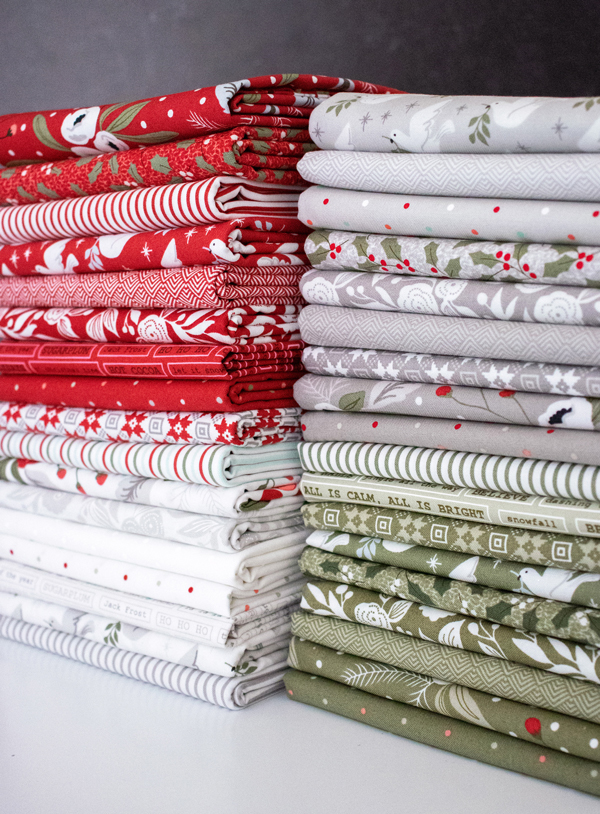 Christmas Morning is arriving in shops, and the collection includes 35 prints and 1 whole-cloth panel. These Christmas panels are very popular and make a great quick gift idea. The Peace on Earth panel measures approx. 58" x 69" and includes the scrappy patchwork border as part of the artwork. This one's a real keeper – don't forget to buy one for yourself! (It is 5149-11P.)
There are five quilts made up in this festive collection, and all of them were a joy to piece. Which one is your favorite?
Yule Tree
Yule Tree is a happy-scrappy Christmas tree quilt sure to put you in the holiday mood. Yule Tree is made with a combination of fat quarters + fat eighths + half-yards. There are a couple options for the border: a single-print border using 1-1/4 yard of your favorite print -or- a scrappy border using 9 fat eighths like the one I made.  It is LB199.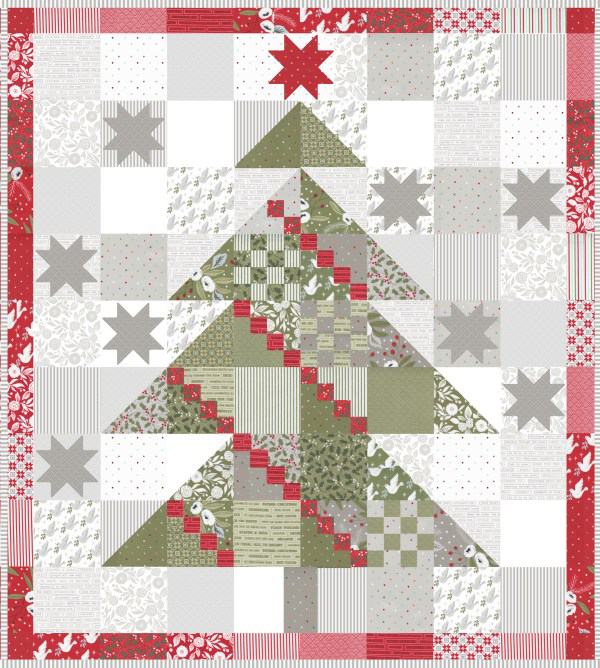 Yule Tree was quilted by Natalia Bonner using a pantograph called "Holiday Bells" by Urban Elementz.  For a PDF of Yule Tree.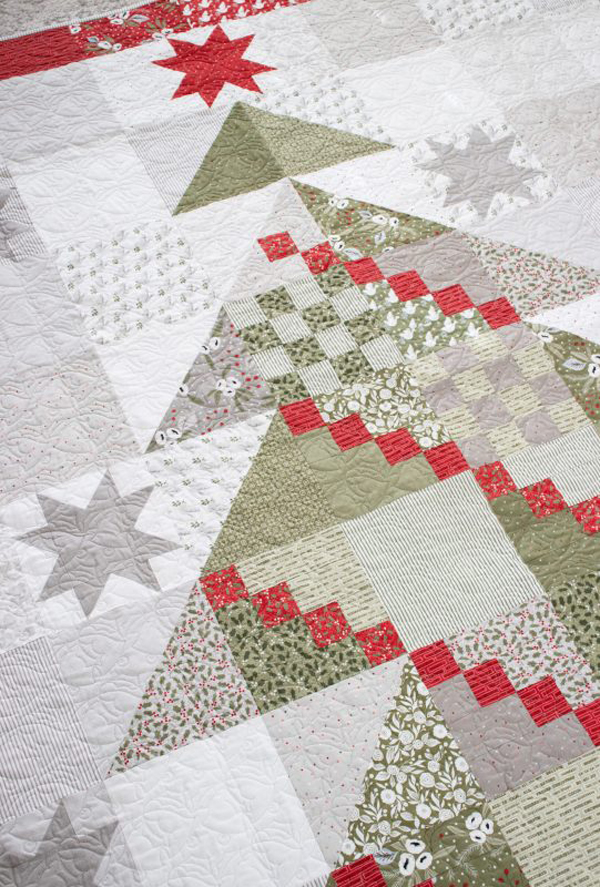 Nice List
This quilt is so sweet, it ended up on the "Nice List."  Nice List is a simple gift block design using a Layer Cake. I used SKU 5146-12 "Comfort" in Silver for the background. Choose 4 fat quarters for the bows - I recommend selecting a mix of light/dark prints.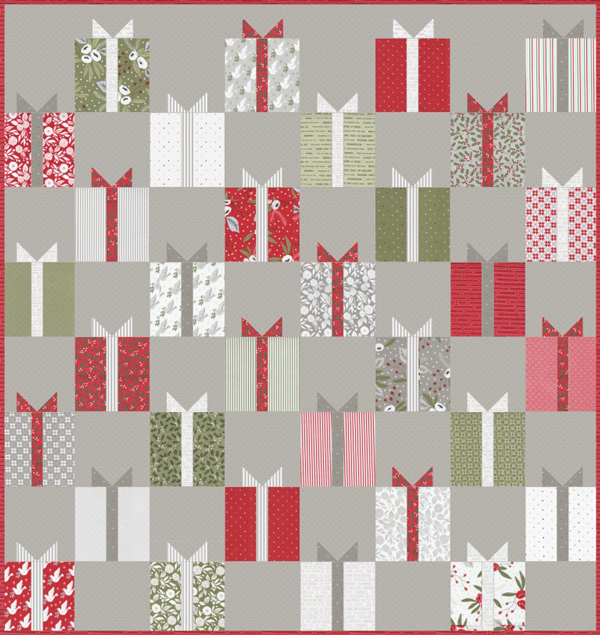 Quilting is by Kaitlyn at Knot and Thread. She used a pantograph called "Navy" by Urban Elementz. It gives a beautiful illusion of geometric stars. Nice List is also available as a PDF Pattern.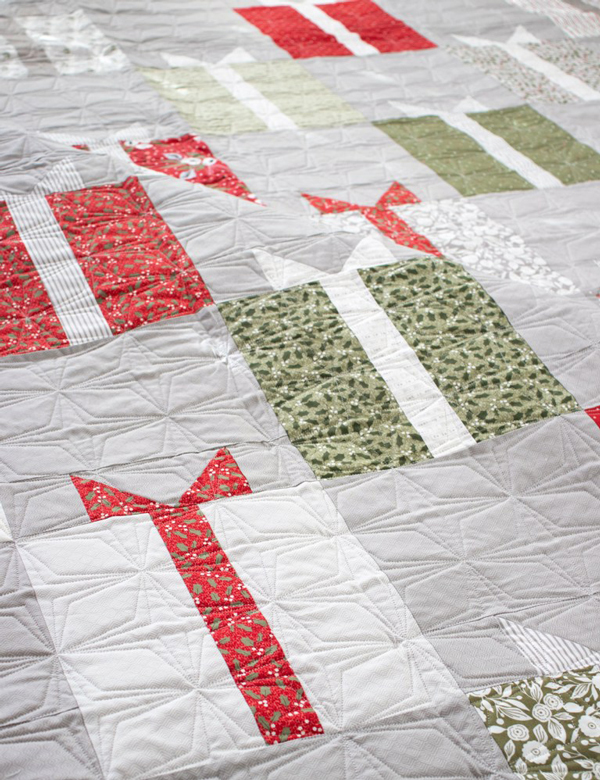 Kaleidoscope 2
When it's chilly outside, grab a cup of hot cocoa under come sit for a spell under this hypnotizing quilt. Quilting is by Natalia Bonner. She used a pantograph called "Andalusia" by Urban Elementz.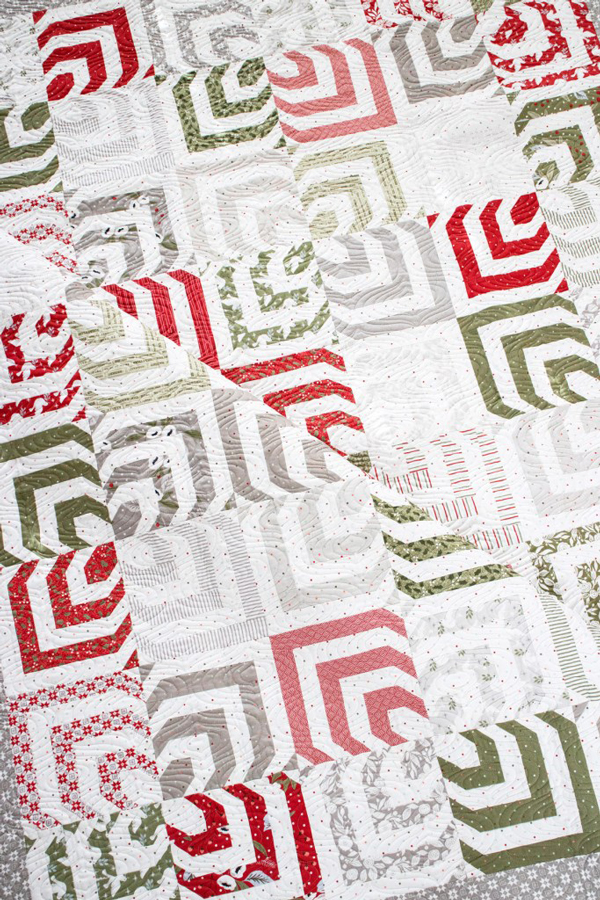 To make Kaleidoscope 2, you'll need a couple of Honeybuns (precut 1.5″ strips) for this one. It's the Honeybun version of my popular Jelly Roll quilt pattern. The difference between the two is block size–Kaleidoscope 2 blocks are 7″ finished and have extra "layers" in each. Because it's smaller than the original block, you can also fill a quilt-top with a lot more of them. Kaleidoscope 2 is LB201.  The Kaleidoscope PDF is here.
Figgy Pudding
The Figgy Pudding quilt is a fat quarter quilt. Choose your favorite 9 fat quarters in a variety of colors + contrasts to make the shapes pop. There isn't anything inherently "Christmas-y" about this design though it is one you'll want to make again and again!  (It is LB 202.)
Figgy Pudding was quilted by Marion Bott using the "Holly N Curls" pantograph by TK Quilting. The Figgy Pudding PDF Pattern.
I had wanted to design a quilt for this collection featuring a dove. Unfortunately, I ran out of time but got another chance when I started working on quilts for the Love Note collection. I made the tester quilt in Christmas Morning fabric and think it turned out so lovely. For more information about this project (including a materials list for kits), visit my blog post here.  Lovey Dovey is LB205.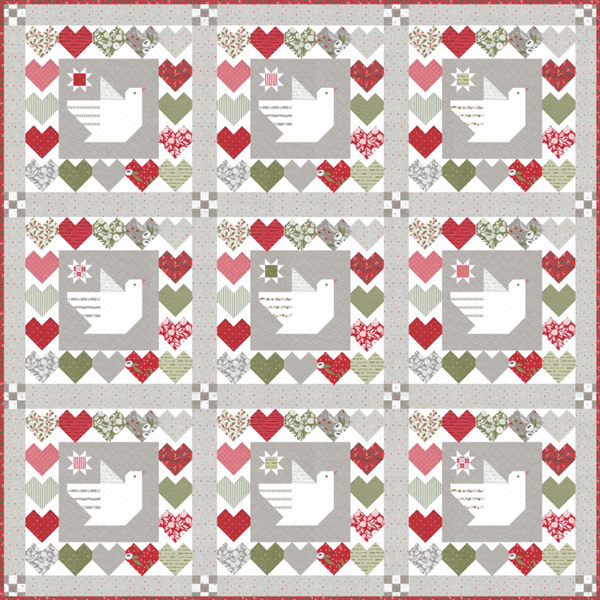 Quilted by: Marion Bott. Pantograph is "Soft and Sweet" by Anne Bright Designs. There is a Lovey Dovey PDF Pattern.
Sewcialites Quilt Along in Christmas Morning fabric
I had the chance to use Christmas Morning fabrics for a fun free block-of-the-week called the Sewcialites Quilt Along. I made 40 sampler blocks in a 6" finished size and had a lot of fun playing with different fabric combinations for this project.
For my quilt top layout, I plugged the sampler blocks into my Rose in Bloom layout from a book releasing later this year. For more information about this quilt project (including a materials list for my Rose in Bloom layout), visit my blog post here. Rose in Bloom book - ISE 948
Coordinating Solids
As always, the collection already contains a few prints that read like solids and are great as backgrounds like the "Magic Dot" print or "Comfort" print (both green swatches below are an example). Of course, those sell out pretty quickly so it is still helpful to keep track of what other solids coordinate. This time around, there are four Moda Bella solids and one BasicGrey "Grunge" print I recommend. You will notice that the "Circa Celadon" green solid is not an exact match to the collection… This is because there wasn't an exact match BUT the Circa Celadon looks great with the group overall. There are a range of greys within the collection; the "Gris" Grunge ties them all together well (while adding beautiful texture).
Here is the complete list:
Bella Solid - 9900 230 - Cherry
Bella Solid - 9900 98 - Bleached White
Bella Solid - 9900 83 - Gray
Bella Solid - 9900 172 - Circa Celadon
Grunge by BasicGrey - 30150 278 - Gris
Thanks for joining me on this tour of all things Christmas Morning fabric.
I hope you have as much fun using this collection as I have!
Vanessa
Be sure to ask about Christmas Morning at your favorite quilt shop.
Stay in touch with Vanessa here: