Stripes, Stars, Flags & Pillows
Stripes, Stars, Flags & Pillows
Three years ago, I shared two flag pillows I designed to celebrate the 4th of July.  Because I still love making pillows, and there was all this really pretty new fabric in the sample room, I felt like I needed a make a new one.  Because threes.
The first thing to do was the re-make the original pillows because they'd found new homes a few years ago.  This is Stripes & Stars, it's made with the coming-in-September Shine On collection by Bonnie & Camille, and the background is from Harbor Springs.  (More on that in a moment.)  The pillow is a 20" x 20" square.
Then Stripes & One Star made with Fig Tree & Co. fabrics, mostly from Catalina and Christmas Figs II, with one or two additional light strips.  (This pillow measures 12" x 28".)
The new idea was for a square pillow with three stars and scrappy-pieced stripes, because who doesn't have a pile of 1-1/2" strips in their scraps?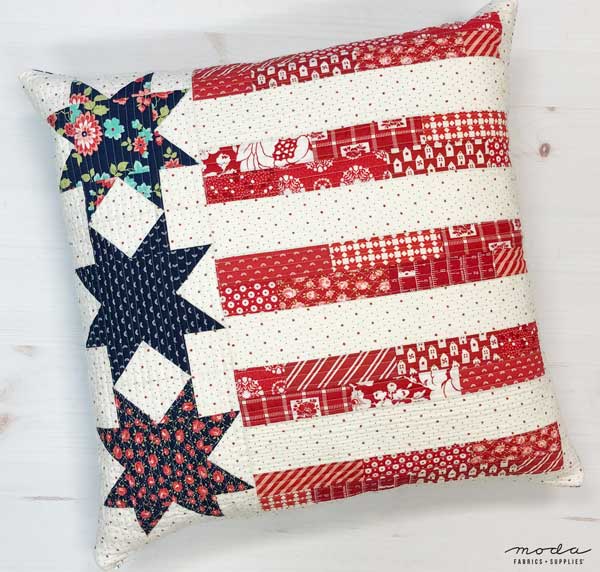 Three Stars & Stripes.  This also measures 20" x 20".  (The fabrics are the same as those used above - Bonnie & Camille's Shine On and Minick & Simpson's Harbor Springs.)
Then another idea came. 
Three Stars & Stripes - a rectangle, or lumbar pillow, that measures 14" x 20".  (Yes, I make pillows to fit the different pillow inserts I find.)
Then it got a little silly... maybe a lot silly.
Using all the same fabrics, a Fig Tree & Co. version, and Minick & Simpson version with pinks and blues are from Mackinac Island and Harbor Springs.  (Mackinac Island is in shops now and Harbor Springs will arrive in August.)  The background fabric is one of my favorites, it's from Primitive Gatherings' Urban Farmhouse Gatherings.  
The background used with the Bonnie & Camille fabrics is a keeper - a stasher.  The one I used is Harbor Springs 14906 21 - a blue grid with red stars.  The red grid with blue stars is also terrific - it's Harbor Springs 14906 11.  (And while you're at it, also get a little bit of Harbor Springs 14907 28 - it's a shirting-like Charcoal stripe on Cream that goes really well with Fig Tree's All Hallow's Eve.)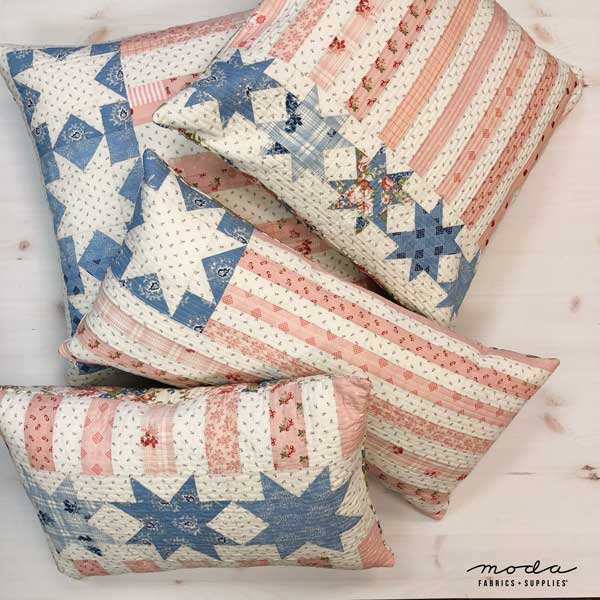 Clearly it was a lot silly.  For a bit more variety with the pinks, there are also prints from 3 Sisters' Rue 1800 and Daybreak, Corey Yoder's Sugarcreek Wovens, and Bonnie & Camille Wovens.
All four Flag Pillow patterns are free downloads:
We'll be sharing more soon about how these pillows are finished.  For now, they're quilted on the front and back, and there is a zipper in the bottom for a nice, tight fit.  It also makes them easy to launder and switch out. 
Have a good, safe, weekend.