Stitch Pink Block 3
It's Saturday and we're back with Block 3 - Monkeying Around. 
It's a Monkey Wrench block and we might have played with the sizing.  Okay, me.  I might have played with the sizing.  
If you are using the Stitch Pink Grunge fabrics/kit - On piece Grunge 30150 377 Peony, cut 1 - 7" strip parallel to the selvage - on the lengthwise grain - and set it aside for Block 19.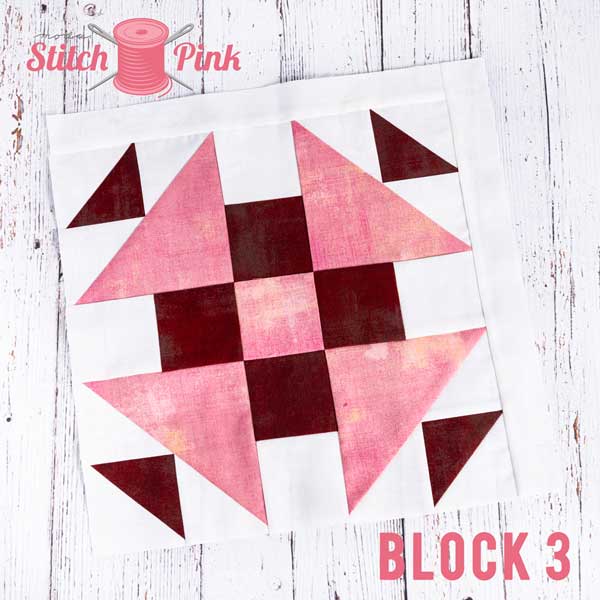 Click here for the instructions >> Block 3 - Monkeying Around.
Judy Adams made this block using Zen Chic's coming-in-a-few-weeks collection, Quotation.
Zen Chic's Just Red!  This is by Carrie Straka, she's one of our amazing quilt-alongers.
If you want to receive blocks via e-mail... The widget for that has been added!  To subscribe to the Moda Inspiration+Resources blogs - E-mail Sign-Up.
FYI: To avoid triggering Spam filters, the e-mails are sent out in batches, so it might not arrive for several hours.  If you absolutely need the block as soon as it posts - Inspiration + Resources.  (The blog posts will publish by 7:00 am CST.)
Be sure to take a peek at the Stitch Pink quilt-along on Facebook and Instagram - #ModaStitchPink.  And don't forget to share your blocks!
If you've missed any blocks - Stitch Pink Archive.
For General information about yardage - We're Stitching Pink.
Tomorrow is Sunday and we'll be back with Block 4.