Scrapbook of Quilts ~ Week 6
Scrapbook of Quilts ~ Week 6
They're all topics for Week 6 of the Scrapbook of Quilts Pillow-Along!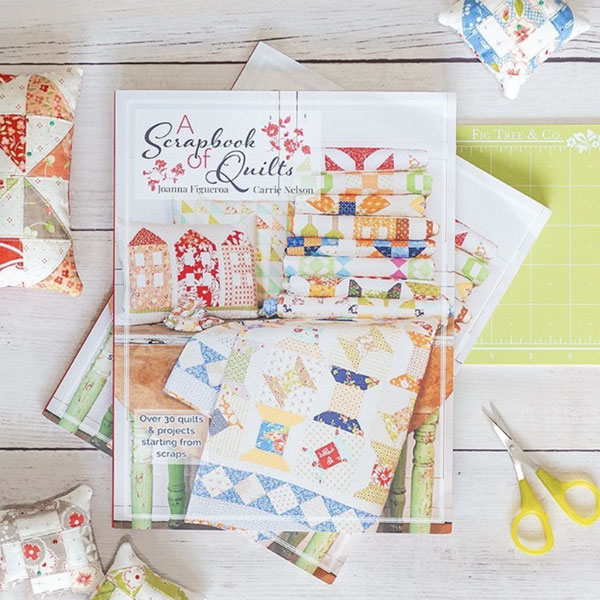 Tiny pillows.  Or a really big book?  So there are a few pincushions in the book, in addition to the pillows.
This week's block is Cathedral Window, and our theme is Halloween.  The "extras" are ruffles, ric rac, prairie points, bindings and labels.  
This is Joanna's Cathedral Window quilt.  As I wrote in the book, while I could appreciate the work that went into making traditional Cathedral Window quilts, they weren't really "my thing."  But this pieced variation of it was a different story.  There are two size options for the block, this is the larger block.  It's Layer Cake-friendly.  
For more about Joanna's quilt, her Cathedral Window pillow, and her finishing ideas - Scrapbook of Quilts Pillow-Along Week 6.
Have you been following #pillowalong on Instagram?  There are so many beautiful pillows being made, I wanted to share a few of the recent makes.  
Kimberly used Corey Yoder's Cozy Up collection - coming in September - for her Pirouette pillow.  The binding finish on this pillow is perfect, and so is Gina's quilting.
Debra Taylor dug deep into her stash for some Persimmon by BasicGrey for two Pirouette pillows.
Nine-Across by Karen Sanford.  Mae with Corey Yoder's Spring Brook collection, this pillow is calm, relaxing, and perfect for her porch.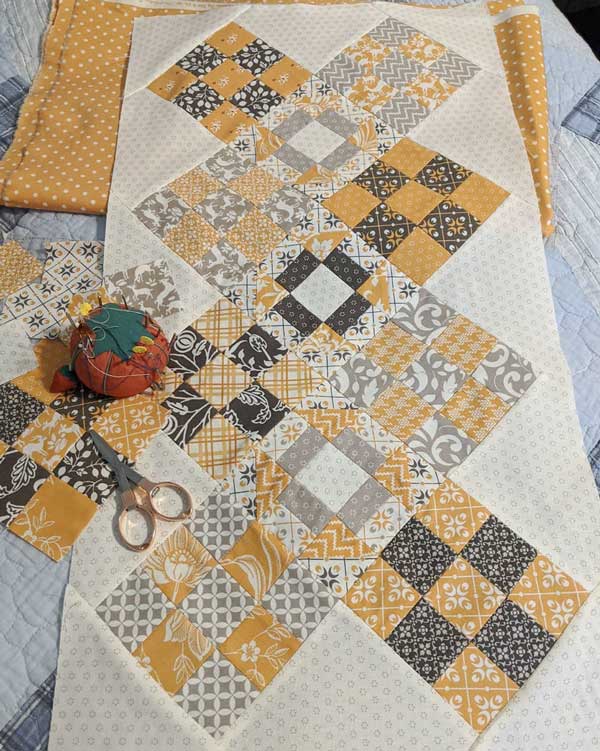 This is Kathy English's Nine Across Rectangle pillow in progress.  She used Joanna's Pumpkin & Blossoms collection.  
This week's topic is "extras" and finishes.  Anything that can be added to the front and back of the pillow to make it different, or more "you".  
Binding finish.  I'm going to date myself here by sharing that the first time I saw this finish done was more than twenty years ago.  I don't know if Lynette Jensen of Thimbleberries was the first to do this, but it was a technique she used frequently, and most folks using this finish back then learned it from her.
I'm sharing this picture of Kimberly's Vintage Spools pillow because it's a great example of the binding finish.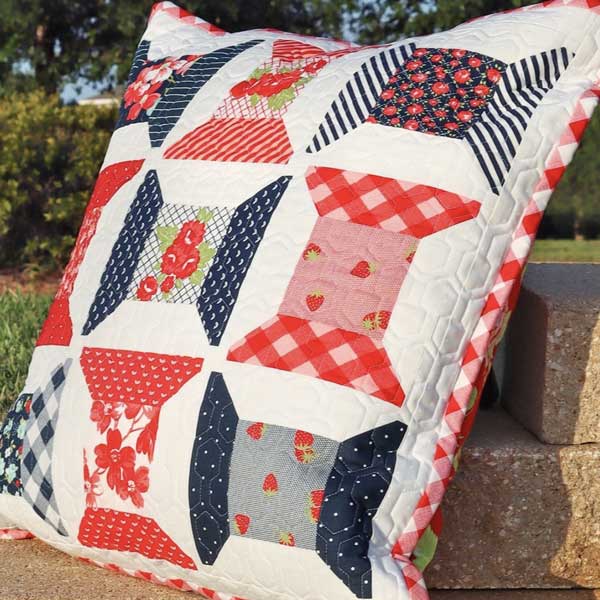 The front and back of the pillow are layered with wrong sides together and the outside edge is stitched together approx. ¼" from the edge.  Then a binding is attached - bias or straight of grain - in your preferred width, using your preferred binding technique.  The binding can be stitched down by machine, or by hand.  The back can be an envelope closure, buttons, or a zipper - with or without a flange to cover.

What I have always liked about this finish is that it adds a pop of color, or an accent, to the outside edge of a pillow.  
Ric Rac.  Years ago, I made several pillows that had jumbo ric rac stitched into the seam so that there was a scalloped edge on the pillow.  Jumbo ric rac is 1" or more wide, usually 1¼".  (Some are 1-3/8".) It looked really good, and I loved the finish.  But this worked best with 100% cotton ric rac, as it was softer, and it shrank a bit with the pillow when washed.  So when I can find 100% cotton ric rac, this is something I'll happily do again.
Prairie points.  I've seen this done and the look was really nice.  But I haven't done it so, sadly, I don't have any expertise.  Or a picture.  
Labels.  A few weeks ago, I shared a few of the label options I have used on pillows.  From making a label from the selvage to purchased labels that can be stitched onto the back, or sewn into the side seam, it's a little extra that I like adding to pillows.
This is the first year I've had the Circa labels so I'm trying to add these to all the new pillows I make.  And quilts.  Will I get 2022 labels?  You betcha!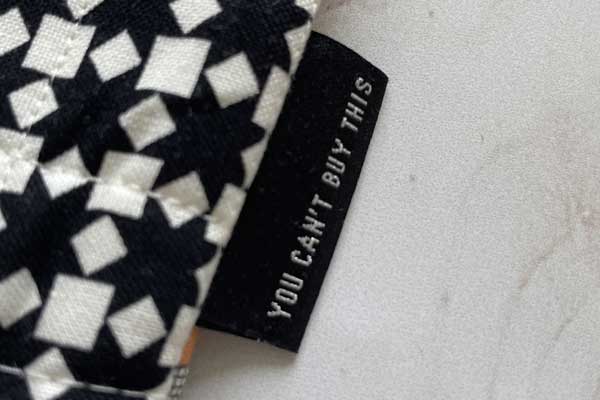 I like the labels that are about "bespoke" and handmade, and the "Perfectly Imperfect" are another favorite.  These are by an Australian company - Kylie And The Machine.  (They're available at many shops in the US, both online and brick-and-mortar.)
Cathedral Window!  Another look at Joanna's quilt in the book.
The block can be made in two sizes, and for my pillow, I made six blocks in the smaller size.  
I had a different plan when I started, something that might be titled "Desconstructed".  I also "reversed" the cutting for all the pieces.  Accidentally.  Oops.  So more fabric pulled out, more cutting... and when I laid it all out, I liked it.  But I didn't love it.  When I realized that I had enough parts for eight complete blocks, I took that as a sign that this is what I should be making.  These are the six blocks that made the cut.  
The sashing between the blocks is scrappy, aka pieced.  It measures 1" cut, ½" finished.  I chose not to use cornerstones.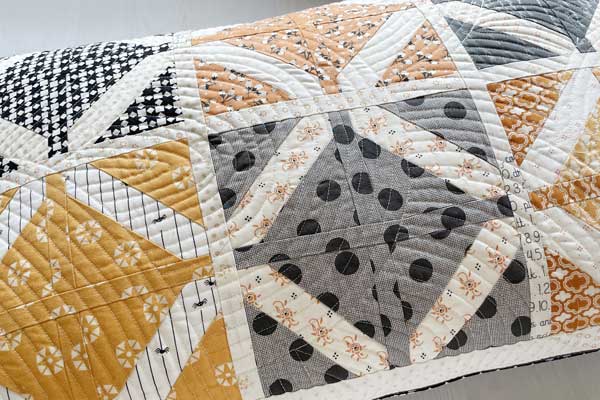 The borders are all cut from the background fabrics.  They measure:
Side borders are 1½" cut - 1" finished.  
Top border is 1½" cut - 1" finished
Bottom border is 1¾" cut - 1¼" finished.
I stitched the triangles left from the flip-and-sew technique used on the block, and trimmed those to measure 1¾" square - 1¼" finished.  I joined twelve HTSs as shown below, and pressed the seams open.
I needed to add a piece of background fabric to one end of the strip - the side that goes on the bottom of the pillow front - to make it long enough.  This is on both sides of the pillow.
After machine-quilting, trimming the edges straight, my finished pillow top measured 16" x 25¼".  In a perfect world, it will measure 16½" x 25½".  The perfect size cover for a 16" x 26" insert.
Be sure to read what Joanna is sharing today - Scrapbook of Quilts Pillow-Along Week 6.
The other blog posts related to the pillow-along can be found here:
If you're on Instagram, be sure to check out #scrapbookofquilts and #pillowalong.  
And don't miss Joanna - @figtreeandco / Kimberly - @itssewemma - / and this week's friend, Melissa Corry - @happyquiltingmc.
Seriously.  You do not want to miss Mellisa's tablerunner.  
Next week's pillow is Neighborhood, and thoughts about the final assembly of the pillow. 
Have a terrific week - stay cool!