Scrapbook of Quilts ~ Week 3
Scrapbook of Quilts ~ Week 3
Week 3 of the Scrapbook of Quilts Pillow-Along.
If you've only seen one Scrapbook of Quilts PAL post, not to worry.  I didn't write a blog post for the first week, the Introduction.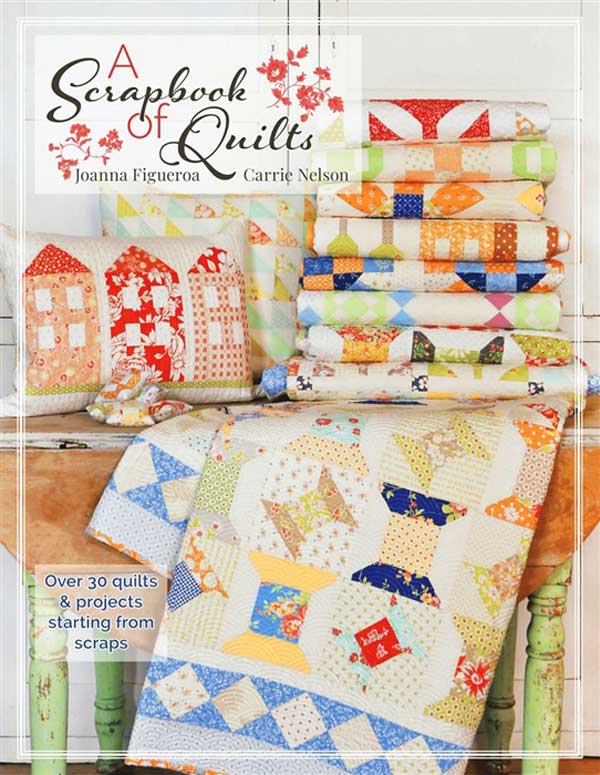 Last week, Joanna and I shared our ideas for quilting the front of the pillow.  This week, we're sharing our thoughts about sizes for covers and pillow inserts, and where we find our pillow inserts.
Fresh Figs - Scrapbook of Quilts Pillow Along Week 3
For me, this is a bit like the question - which came first, the chicken or the egg?  Do I make a pillow to fit the size of an insert?  Or do I make the pillow and squish an insert to fit?  
Both.
Sizes for Inserts.  The pillow inserts I use the most are 20" x 20", 16" x 26", and 26" x 26".  I also use 12" x 28" and 14" x 20".
Are the pillow sizes exactly that?  No.  I like a cover that fits tightly, so my cover is usually smaller than the insert, sometimes by as little as 1/2", sometimes by as much as 3" to 4".  (More on that in a moment.)  Some home decor experts suggest using a pillow insert that is 2" bigger than the size of the pillow cover.  
My preference is for feather/down inserts because of the way they look, and feel.  And because they're "squishable, so "close enough" works for me.  With the variations in the sizes of the pillow cover, and the pillow insert, some pillows are firmer than others, and I'm fine with that.  
Joanna's Vintage Spools pillow for the pillow-along - this doesn't have borders, it is the size it is.  It uses a 16" x 26" pillow insert.  
Sizes for Pillow Covers.  Some pillows turn out to be the size they were meant to be, as in, this is the design I want to make, so this is how big it's going to be.  End of story.  
If the top is entirely pieced - there aren't any borders - then there is less leeway in having a smaller pillow cover than insert.  For example, 5" finished blocks set in four rows of four blocks each is going to measure 20½" x 20½".  With a ¼" seam allowance, the cover will be about the same size as the insert.  Washing and shrinkage will help, but the cover won't be as snug as it would be in the pieced-quilted top finished at even 20" x 20".
A couple things to mention about borders.  Just as it is with quilts, borders can change the look of a design, and they can make the pillow cover < this big >.  
For one of the Pirouette pillows, the top and bottom borders set off the scrappy, pieced half-triangle squares.  The borders are an element of the design.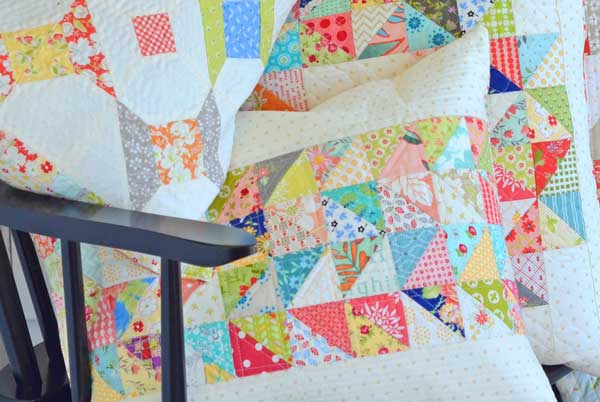 It's the pillow on the bottom.
Tip No. 1 - Borders don't need to be the same width, the sides can be wider/narrower than the top and bottom borders.  And the bottom border can be wider than the top border.  Or there can be a border only on the bottom.
For this Nine Across rectangle pillow, I added a 2" cut border to the bottom of the pieced top, then trimmed it to 1½" after the top was quilted.  
For last week's Vintage Spools pillow, the narrow borders made the pillow top a bit bigger, and centered the spools, framing them.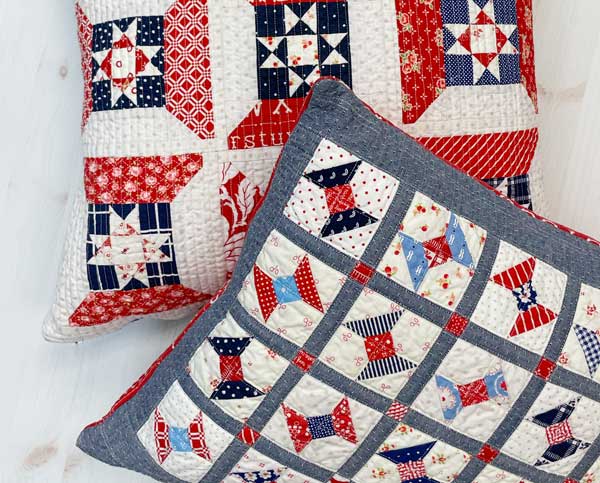 This gives me a little bit more blank-space for the seam allowance of the zipper closure on the bottom of the pillow.  And with the way a pillow settles on a chair or sofa, the pieced design sits just a skosh higher on the pillow.  (Or at least that's how I rationalize it.)  
Tip No. 2 - I cut borders a ¼" to ½" wider than needed, and trim the pillow top after it is quilted.  
One last thing to share about sizes for pillow covers and pillow inserts, feather/down inserts really are very forgiving.  I can use a 20" x 20" insert in a 16" x 20" pillow cover, and I have also put that size insert in a pillow cover that measured 16" x 16".  
Re-purposing pillows.  When Joanna first mentioned this, I wasn't sure what she meant.  Using the filling from old pillows to make new pillows...?  Kind of, but not exactly.  She meant, do I purchase/open a new pillow insert for every new pillow I make.  No.
Make that NO!
Do you know how many pillows I've made?  I made seven for the book, three more since then, three for work last month, and three Winkipop pillows last year, twelve flag pillows because "why not?", and so on.  I would need a storage unit just for my pillows!  
I have drawers and cupboard shelves with empty pillow covers.  Seasonal covers are kept together, like-colors are kept together, and a few are sorted by size.  Mostly.  Pretty much.  (I'm working on it.)
Have I ever made a pillow to fit an insert?  Yes - 14" x 36".  It's a long lumbar, but it looks really good on a bed.  I saw the pillow insert on a website, and it was a challenge to see what I could make that would work.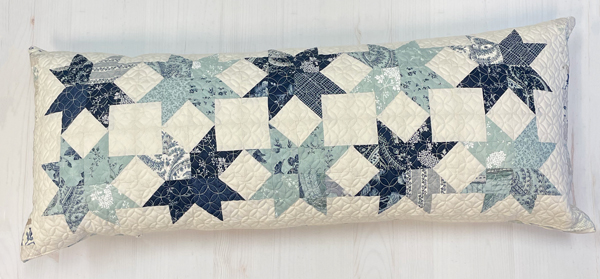 This is an upcoming pillow/runner for 3 Sisters' Sister Bay collection - in shops this Fall.
Sources of inserts.  Let's chat about polyester and fiberfill pillow inserts first.  They're easily available, and there are a lot of size options.  They are also generally anti-microbial, hypo-allergenic, and machine-washable.  They will also hold their shape and firmness better, making them an excellent choice for lumbar pillows that are actually used to support your back, especially when sitting on a squishy sofa.
While I have, and use, a few polyester pillow inserts, my preference is for feather, and feather/down mix pillow inserts.  My favorite source for pillow inserts is IKEA - the Fjädrar.  It comes in three sizes - 20" x 20", 20" x 26" and 26" x 26".  The price ranges from $5.99 to $9.00, and they come in a vacuum-sealed bag so my stockpile of inserts takes up a bit less space.  (Having a few extra on hand is easier, and less expensive, than going to IKEA regularly... even if just for the Swedish meatballs and frozen salmon.)
I also purchase feather/down pillow inserts at Garnet Hill and Pottery Barn.  Both have more size options, especially for lumbar and rectangular pillow inserts.  They are a bit more expensive, but this is where re-purposing comes in.  And sales.  
Pillow-along!  This week's block-quilt is Nine Across, and the theme is Neutrals.  Light neutrals - light gray, tan, beige, cream, and white.  I know... I wrote it in the book, page 5, "red is a neutral."  
Joanna is sharing her thoughts about pillow covers, inserts, sizes and sources here - Scrapbook of Quilts: Week #3.
The other blog posts related to the pillow-along can be found here:
If you're on Instagram, be sure to check out #scrapbookofquilts and #pillowalong.  
And don't miss Joanna - @figtreeandco / Kimberly - @itssewemma - / Greg - @greydogwoodstudio / and this week's friend, Susan V. - @thefeltedpear.
Next week's pillow is Oregon Trails.  There are templates in the book that can be traced onto template plastic or cardboard.  But if you love this block, and you think you might want to make the Oregon Trails quilt, the template set is the way to go - it's ISE 783 from It's Sew Emma.
And Joanna and I will also be sharing our ideas about the back of the pillow - closures, quilting and favorite prints to use.  
I hope you have a good week.  And that you make a pillow or two.