Get To Know ~ Kathy Schmitz
Get To Know ~ Kathy Schmitz
Pursuing her dream to make a career out of her artwork and illustrations, Kathy Schmitz took her quilt-themed greeting cards to Quilt Market in 2002.  That's where she was discovered by Moda Fabrics.  Her first collection, Cozy Comforts, debuted later that year.  
The youngest of three girls, Kathy was always drawing and painting, often illustrating the stories she wrote with her artwork.  With accomplished seamstresses and quilters in the family, she made her first quilt when she was 13 years old using her grandmother's old treadle sewing machine.  It was only natural that she studied graphic design and painting in college.  
The style of illustration that has become her signature came about when she wanted something new to hang over the mantle of her home at Christmas.  After digging out the three tubes of paint she had leftover from a collection, she painted a picture of her house in a snow scene and promptly fell in love with this type of artwork.  Having only one house of her own, she began to paint pictures of other people's homes. 
Snow Sampler - KS1914.  This embroidery fits an 8" x 10" frame, and is made with Moda Crackle in Linen and 12wt. perle cotton or 6-strand embroidery floss.
Kathy added embroidery to her repertoire in 2007 - picking up a hobby that she'd first learned to do in 2nd grade.  The line drawings of embroidery were so well-suited to her artwork that she began designing embroidery to coordinate with her fabrics.  Designing quilts - including many that incorporated her embroidery designs - came less than a year later.   
A little cottage in Portland, Oregon that she shares with her husband and best friend, Steve is the house in Kathy's latest drawings.  Her two grown boys visit often - she's a doting Mom who beams with pride when asked about them, happily saying that they're always in her heart.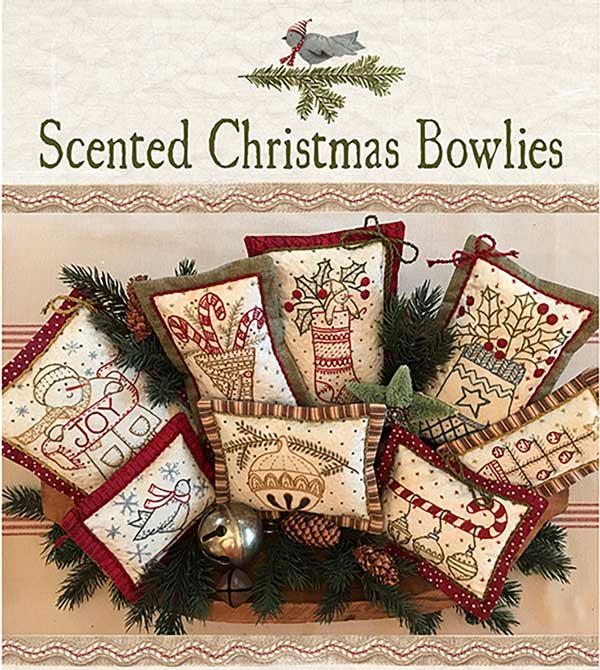 Scented Christmas Bowlies - KS1816.  Moda Crackle in Linen, embroidery, accent fabric scraps for each little bowlie and stuffing.  Measuring between 4¾" x 6" and 5" x 8", there are eight designs in the pattern. 
What is your favorite color?
Sometimes it's a burnt orange and sometimes it's an olive green.
What is your favorite season and why?
I love the changing seasons - Spring and Fall.  They both have a distinct smell and feel.  My favorite-  cool spring morning sunshine and cool fall afternoons full of colorful leaves. Back in my youth I remember my neighbors would burn their leaves in barrels, I loved that smell. Can you tell I like it cool?!  I become a bit cranky when I get hot...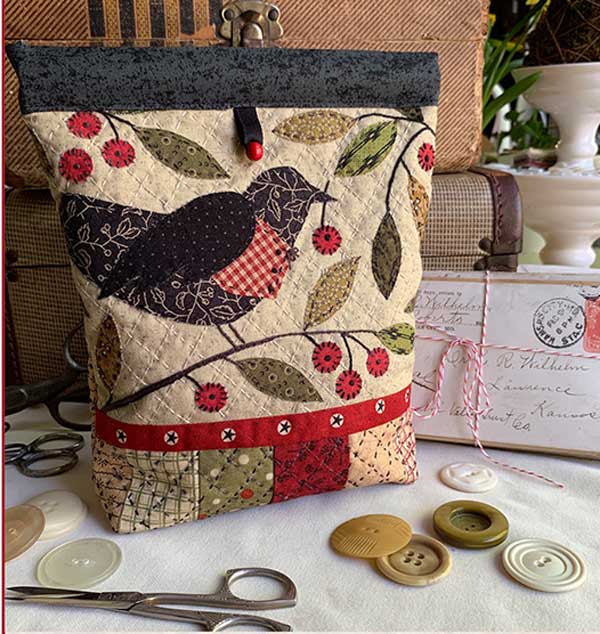 High Park Farm - KS2003.  This 8" x 8½" snap pouch is made with background fabric, scraps, fusible web and embroidery.  
Are you a morning person or a night owl?
I get cranky when I get tired so I usually am in bed by 11 and up by 7. I'm starting to see a cranky theme.  Maybe I should work on that.
When you were a kid, what did you want to be when you grew up?
When I was little I really wanted to write and illustrate children's books.  I can't write worth beans, but luckily I can draw.  I did illustrate one children's book many years ago called Stan and Bert.  
In The Treetops - KS2006.  This 16" x 20" wall-hanging is made with 1 charm pack, Moda Marble Flannel in Jet, and embroidery.,
What inspires you daily? 
Nature!  I live in an older neighborhood with huge old Maple and Elm trees.  This morning I walked over to the three Sequoia's that have been standing for 200 years.  Someday I hope to move to the Oregon coast where I'll spend my days watching the waves for inspiration. 
What is your favorite food?
I love authentic Mexican food!  If you ever visit Portland you need to eat at Por Que' No. 
Eastmoreland - KS1907.  Made with Mini Charm squares, Moda Marble Flannel in Jet, and embroidery, this 16" x 20" wall-hanging is a favorite.
Where was your best vacation?
I've been fortunate enough to have some amazing vacations!  I think Italy was one of my favorites.  It was the first trip with my sons as grown men.  I'll never forget that trip.. 
What is your favorite movie? Actress or Actor?
I don't know if I should admit this, but I like movies that are on the dark side.  Shawshank Redemption had one of the best endings ever.  And pretty much any movie with George Clooney.
Tiny Treasures - KS2101.  This is one of the seventy-two miniature embroidery designs in Kathy's new book.  Each design measures 1½" in width or less, and fits on a 1" hexagon.
What are the words you live by?
Be kind.  Do my best to choose happiness every day.
For more with Kathy: