Get To Know - Anna Dineen
Get To Know - Anna Dineen
Anna Dineen calls herself a lifelong "serial crafter".
She admits to having dabbled in just about every craft that involves a needle and thread, paper and glue, or textiles of any kind. Her crafting career began in 2011 when she combined her love of paper-crafting with her entrepreneurial spirit to renovate a turn-of-the-century home into a luxury crafting retreat center.
But the happiest chapter of Anna's creative journey opened in 2016, when she began quilting in earnest, launched her blog and an Instagram account.
Since then, she's worked in the Marketing department for a major fabric manufacturer; sewn countless projects for quilt markets, blog tours, and quilting books; has contributed to a Moda All Stars book; and continues to freelance in social media for creative businesswomen.
And after several years of designing and writing patterns, she started a pattern company for her original quilt designs earlier this year.

What is your favorite color?
Carolina Blue!
What is your favorite season and why?
I love fall, even though it's a pretty short season in Texas. I'm a homebody, and fall just feels cozy. It's also football season!
MWP 213 - Goose Down. Finishing at 62" x 70", Goose Down is FQ-friendly.
Are you a morning person or a night owl?
Definitely a night owl! Most of my creative work happens in the evenings and often stretches until very late.
When you were a kid, what did you want to be when you grew up?
In high school, I wanted to be a foreign language intelligence officer for the CIA. Or maybe I really did start working for the CIA, and being a quilter is just the most clever cover story ever...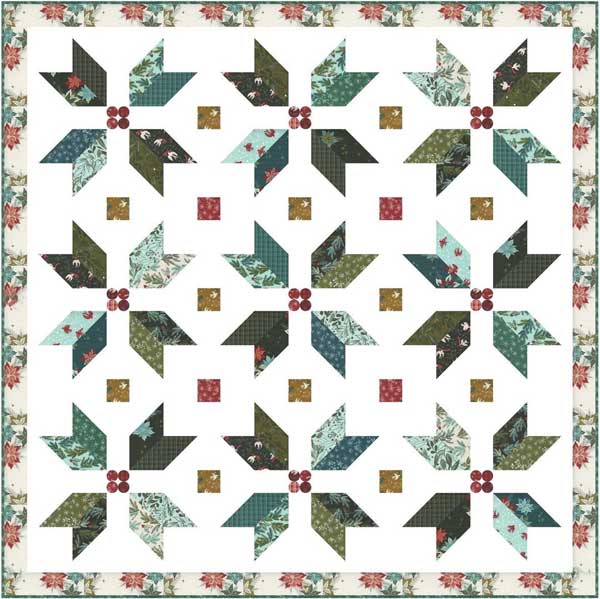 MWP 218 - Holly-Day Stars.  Made with a F8 bundle of Cheer and Merriment by Fancy That Design House, this festive quilt finishes at 52" x 52".  (Coming May, 2022.)
What inspires you daily?
I am always motivated and inspired by the idea of creating something that is both functional and beautiful, which is why quilting has such lasting appeal to me. Quilts aren't just for display at my home -- I make quilts to be used, even if it was made with that precious fabric collection I'd been hoarding!
What is your favorite food?
I love all kinds of food, but something I really miss from growing up in North Carolina is Bojangle's chicken biscuits!
Where was your best vacation?
In 2018, my husband and I took our kids to Ireland, and it was one of the best trips we've ever taken as a family. We made so many great memories there!
MWP211 - Button Box.  Shown in Fresh Fig Favorites, this quilt is FQ-friendly, and finishes at 64" x 64". 
What is your favorite movie? Actress or Actor?
I'm a huge Marvel movies fan!
What are the words you live by?
I have a few mantras, but professionally, my favorite is "A rising tide lifts all ships." I always aspire to encourage others to be active in the quilting community and to remember that there's a place for all of us!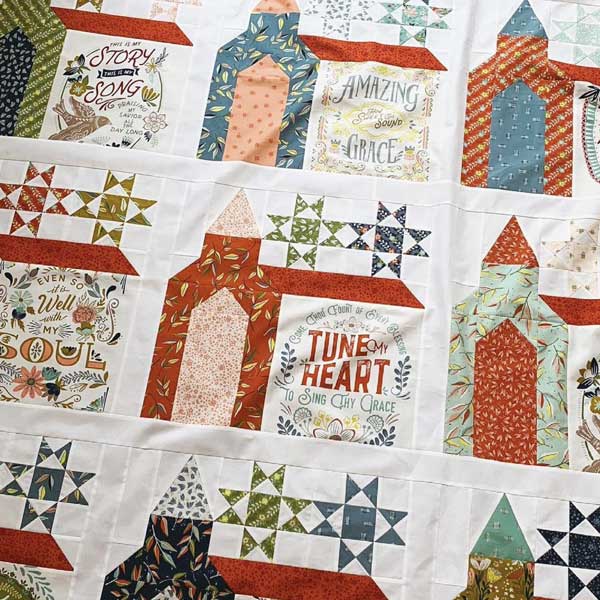 MWP - Firm Foundation.  This is a Free Pattern on Anna's blog.
What are your top 5 must-have notion items?
--------------------------------------------
For more with Anna Dineen of My Wandering Path: