Forever in Blue Dreams
I've never been able to resist a good batch of blues.  Not only is blue a calming color, but it really just 'goes' with basically anything.  Like a good pair of jeans.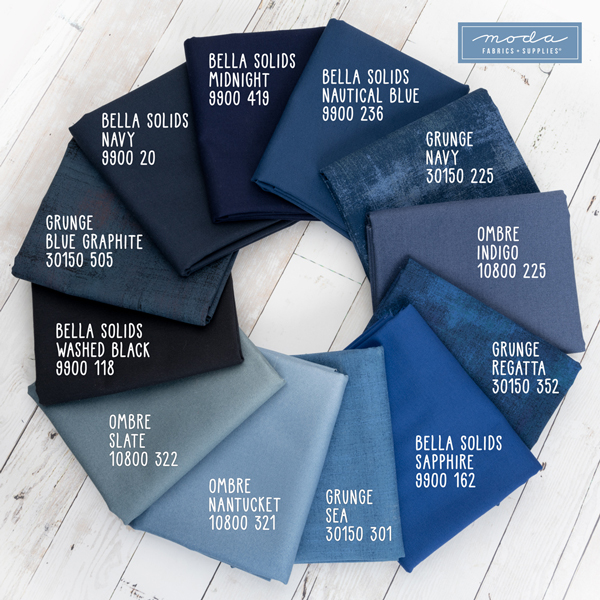 When I pulled this bundle for September, I was inspired by the work of Sandra Johnson.  Sandra does beautiful work with recycled denim (among other materials), turning them into stunning quilts, garments, and bags. The variation in tones that come from the denim in her projects is amazing, and I wanted to try to get a similar look from quilting cotton.
Pulling from Bella Solids, Grunge, and Ombre basics provided a similar variation in tone and the feel of texture, while staying in my fabric comfort zone.
So, what to make? I moved apartments last month, and have been looking for a project to hang in my bedroom to take the place of a headboard.  After years of living in California, the land of earthquakes, the idea of hanging anything heavy like a frame above where I sleep was a no go.  Not quite ready to invest in an actual piece of furniture, but maybe a quilt would do just right.  Thus the headboard quilt was born!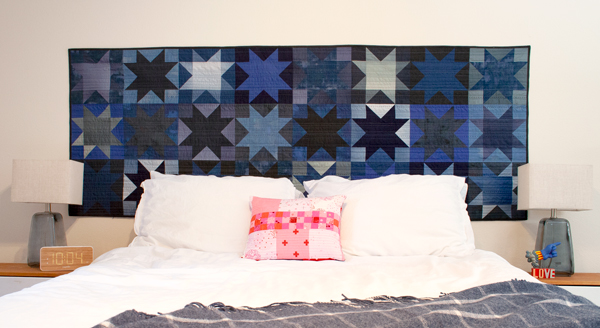 A pattern is available for free download here, and finishes 80"x30".  All you need for the top is 12 generous fat quarters (the full 18" is needed for cutting), which will give you (24) 10" finished sawtooth star blocks.  This size spans a queen bed (60" wide) plus a little extra on either side, so size up or down accordingly!  And don't forget to go with some fun modern quilting; one of the benefits of working in a limited color palette is being able to play with thread. I used a mix of Aurifil 50wt (#2625, 2725, & 2780), Aurifloss (#2785) and Finca Perle (#3405 Size 8) to mix both machine quilting and a bit of big stitich quilting.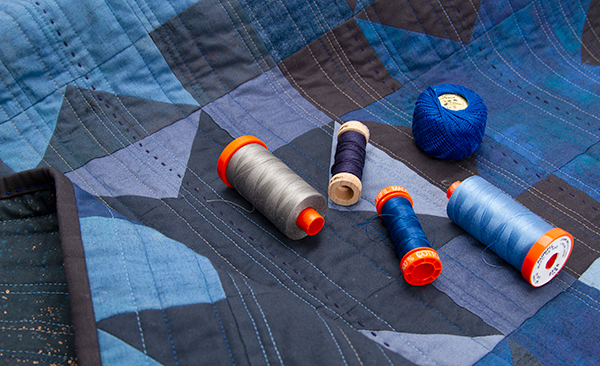 This was such a fun, quick project, even with having to trim up flying geese.  And it's always nice to have something handmade and quilted that has a different use than your standard cozy quilt.  I'll be Forever in Blue Dreams indeed with this new headboard!
Did I mention I'm running a giveaway on my Instagram page for a fat quarter bundle of these 12 Moda basics? Head there now to enter, all details are on the project post in my feed.