Bella Solids & Whites
With 324 colors of Bella Solids - so far - there are always questions about them.  That's today's topic.
Tell me about the cotton used to make Bella Solids?  Bella Solids are a premium-grade 100% cotton, and all of the cotton is grown in the United States.  (And if there was any way to have it manufactured here, we'd do that too.)
Why aren't the color numbers marked on the selvage?  The application of collection names and color numbers is done with printing.  Bella Solids are dyed so printing even the numbers on the selvage would be an additional step, adding to the cost of the finished fabric.
But there's an easy solution to that - an Identipen or a Sharpie in Black.  It's a permanent marker that can be used to write the Bella Solid color number in the selvage.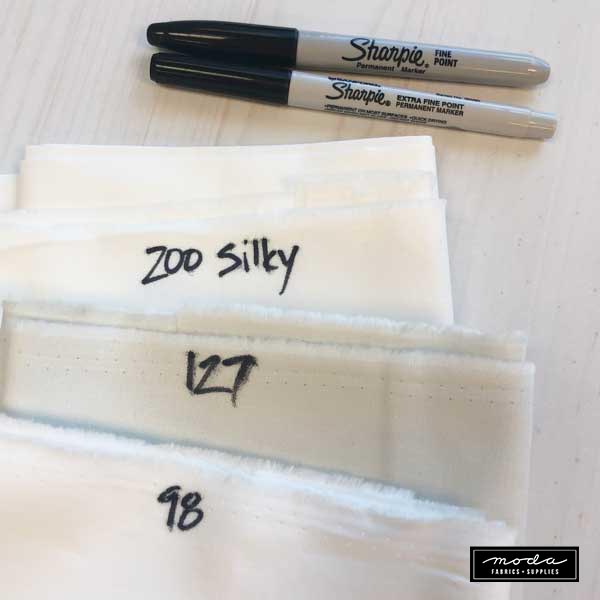 This is particularly useful if you use multiple shades of White, Cream, Gray and so on.  I also include if the fabric is a Bella Silky - more on that in a moment.  (This is also helpful if you occasionally use solids by "other" manufacturers.)
Let's chat about White for a moment, particularly the various shades of White.
Here are four shades of Bella Solid "white" - from top to bottom:
Bella 9900 97 - Bleached White PFD
Bella 9900 98 - White Bleached
Bella 9900 200 - Off-White 
Bella 9900 436 - Super White - or Optic White  (This is new and will be in shops in September.)
Do you use Bella 97?  If so, be careful.  This fabric is PDF - Prepared for Dyeing.  That means that it has not been treated with any finishing process or chemical that will prohibit the absorption of dye - it's designed to absorb dye.  So if it has been used in a quilt with a saturated color like Red, Navy, Purple or Dark Green, there is a strong chance that the White fabric will absorb some of the excess dye that is often released into water when the quilt is first washed.  While many quilters have used Bella Solid 97 for years without any problems, the potential is always there.
We wrote about this more a few years ago - Which White is the one for me... 
*Storage Tip.  If you're like many of us, you use several different shades of some colors, from White to Gray to Red.  When you have leftover strips, squares and scraps, how do you know what color they are?  Ziploc bags!  Use that Identipen or Sharpie to write the Color Number on the bag and keep small pieces in the marked bag.  This is also useful for any Basic you use frequently - Bella Solids, Grunge, Ombrés, etc. 
What is a Bella Silky?  A Bella Silky is the result of a Bella Solid getting the same final finishing process as a Designer print, giving the fabric a subtle sheen and a silky feel.  There are currently eight colors of Bella Silky, including the coming-in-September Super White - 9900 436S.  The other colors are Snow (9900 11S) - White Bleached (9900 98S) - Etchings Stone (9900 178S) - Porcelain (9900 182S) - Steel (9900 184S) - Zen Grey (9900 185S) - Soft Black (9900 199S).
How do I find out which Bella Solids coordinate with a collection by a Designer?  Most of the time, the designers can help with that as they frequently mix them with their collections, and they share their picks on blogs and social media.
Vanessa Goertzen of Lella Boutique always shares the coordinating Bella Solids.  This is Folktale and the Bella Solid she recommends are:
Bella Solid 9900 178 - Etchings Stone

Bella Solid 9900 97 - Bleached White

Bella Solid 9900 103 - Golden Wheat

Bella Solid 9900 88 - Bubble Gum

Bella Solid 9900 172 - Circa Celadon

Bella Solid 9900 207 - Glacier

Bella Solid 9900 41 - Chocolate
The other source of information is the Fabrics Downloads page on the Moda website.  Many collection listings include coordinating Bella Solids.  Not all of them - some of them.  (We're working on that.)
This page can be reached three ways:

From the top taskbar - Inspiration+Resources.  There is a drop-down menu on that tab, Fabric Downloads is the 8th option from the top.  (Or the 2nd from the bottom.)

Scroll down the main page until you see FUN & FREE.  Downloads is the first tab under that heading.

At the very bottom of the main page, the third column from the left is FREE & FUN.  Fabric Downloads is at the bottom.
All three will take you here.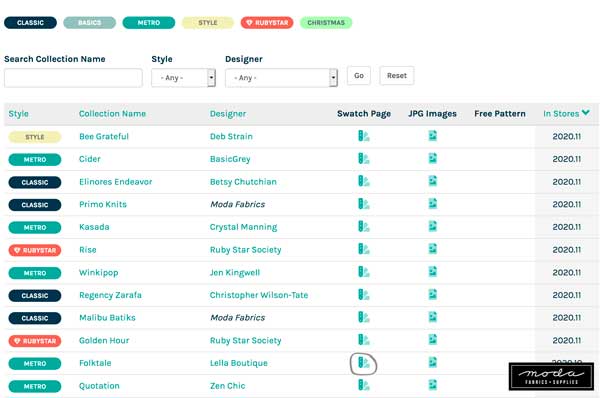 In the Search Collection Name box - type in the name of the collection you're looking for.  Or use the drop-down menu in the Designer box to bring up all the collections by your favorite designer.  Click Go. 
The results will look like the listing above.  In the column marked Swatch Page, click that icon to get to the catalog page for the collection.  This is what that page looks like - Folktale by Lella Boutique.
Do I need a Color Card?  If you use a lot of Bella Solids, and your local quilt shop doesn't stock a big selection of Bellas, then it can be helpful.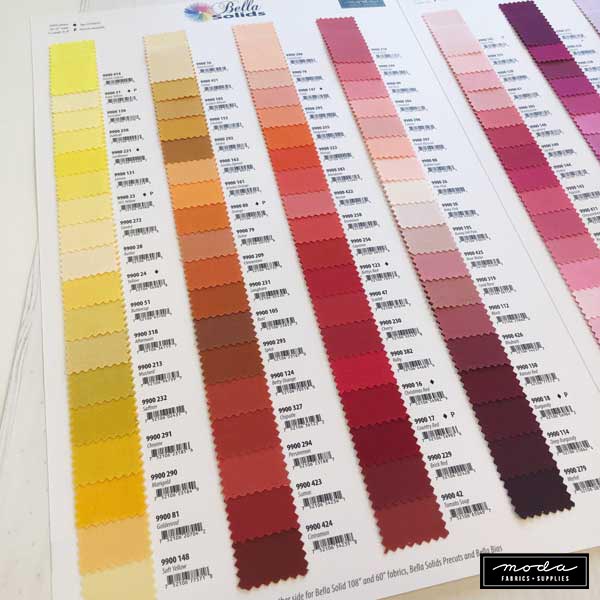 And they are pretty. 
New Bella Color Cards are produced about every twelve months, usually following the introduction of new colors.  Moda has considered "update" cards but by the time there are new colors, the previous release for Color Cards is sold out so new color cards are needed anyway. 
And some of us really appreciate that... mine always seem to wind up being "de-constructed" by then.
I use my Sharpie a lot. 
So do you have favorite colors for Bella Solids?
My preferred White is the Bella Silky in Off-White - 9900 200S.  And while I don't use it as much as I should, I love Cayenne - Bella 9900 256. 
It's been a few years since I made a quilt with all, or even mostly, Bella Solids.  I selected three different color palettes last year, each with at least a dozen Bella Solids.  While the project was diverted and never made, I still have the "mini stacks" of fabric... I should make something.
Watch this space...
I hope you have a terrific Friday and a solid weekend.