Basic Sewing Kit
One of the pleasant surprises of this year has been the surge in business for shops servicing and selling sewing machines.  Old machines and new ones, people who hadn't sewn since high school were threading their machines and sewing.
One of the iconic sewing machine displays at Allsaints, a trendy clothing store that originated in Great Britain.
While a few folks had a box of tools and notions, many others were starting over.  What did they need?  That became the subject of a conversation here as we were being asked that by friends and relatives.  As you can imagine, we checked our sewing rooms and drawers to make a list of "must-haves", and our list quickly grew to more than a hundred items.  Because really, everybody needs a Tailor's Ham.
I pared down the list, and asked for opinions.  I thought about dumping a few of the more esoteric tools but it turns out that everybody had one, and used it.  Will you need and use everything on this list?  Probably not.  But this is a starting point.  And almost everything shown here came from my sewing room.
So here we go, this is our list of what every "basic sewing" tool box should have.
Broad categories first.  Then specifics.
Thread
Needles
Pins
Scissors
Marking Tools
Rulers
Cleaning Tools
Assorted Tools
Extras
Thread.  If the spools look like they could be sold as a "Vintage lot" on eBay, they need to be replaced.  When thread is exposed to light, dust and extremes in temperatures, it gets brittle.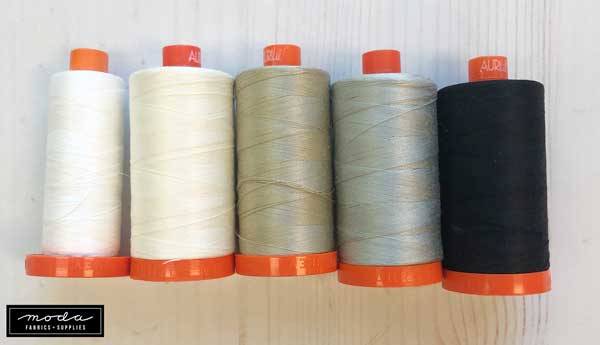 Black.  White.  Ivory.  Tan.  Maybe Silver Gray.  Medium-sized spools.  Polyester and 100% cotton, you'll want both in basic colors.  40 wt. or 50 wt. - regular, every day sewing thread.  Get the pretty colors and different weights as needed for specific projects, be they garments, drawstring bags or quilting.  I have six or seven small spools in shades of yellow that look lovely in the sewing box, but rarely get used.
As a quilter, I use 50wt. thread in a handful of colors.  Aurifil 2324 and 2120 are my most-used colors.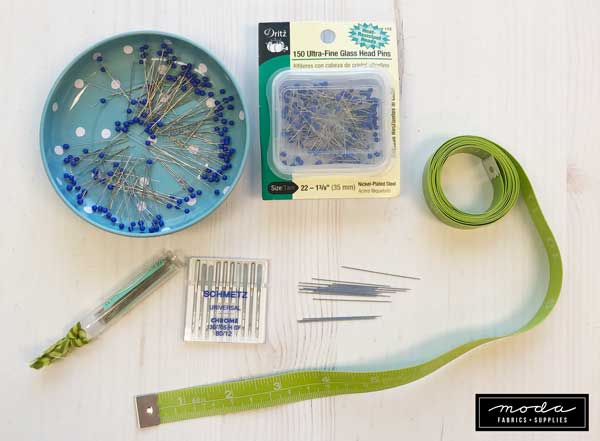 Needles.  Sewing Machine needles - 80/12 Universal needles.  Get a couple of packages - at least a dozen needles as they should be changed regularly.  80/12 are the most commonly-used size, and they work for machine-piecing of quilts, garment sewing and simple home decor projects.  If you know you'll be hemming jeans, get a package of 90/14.  (But why go there?  When asked to hem someone's jeans, just say no.)  If you'll be using canvas and decorator fabrics for home decor projects, then the 90/14 are good.  (Just don't use them to hem jeans - tell your family they're the wrong size.) 
Hand-sewing needles - Sharps are a good all-purpose needle, and an assortment package has a variety of sizes.
I like Straw needles because they're long and straight.  My go-to size is Size 9, and I use them for binding, English Paper Piecing and most of the hand-sewing I do.  (Which isn't a whole lot... I attach buttons by machine.) 
Pins.  Do not buy pins because the heads come in pretty colors, or they have flower heads.  Buy pins that are sharp, thin and the best possible quality.  Fortunately, there are good quality pins with pretty-colored heads and flowers.  Pins should pass through multiple layers of fabric easily, and without snagging the fabric.  Think about how easily you'll be able to handle the pins.  If you're starting to get some soreness from arthritis, Magic Pins are easy to grasp and use.
Look for pins that measure between 1.25" and 1.75" long, and are between 0.4mm and 0.6mm in diameter.  Quilters generally prefer fine pins in a longer length, while garment sewists prefer fine pins in a shorter length.  Canvas and home decor fabrics will need a sturdier pin - longer and a bit thicker.
For a cool chart with more information about the sizes of pins - Straight Pin Size Chart.   
And don't forget a pincushion!  Or two.  A Zirkel or Grabbit magnetic pincushion or wool, a big tomato or a colorful little one.  Something in Rose Gold?  Me?  While I love making pincushions, I use magnetic pin bowls for pins.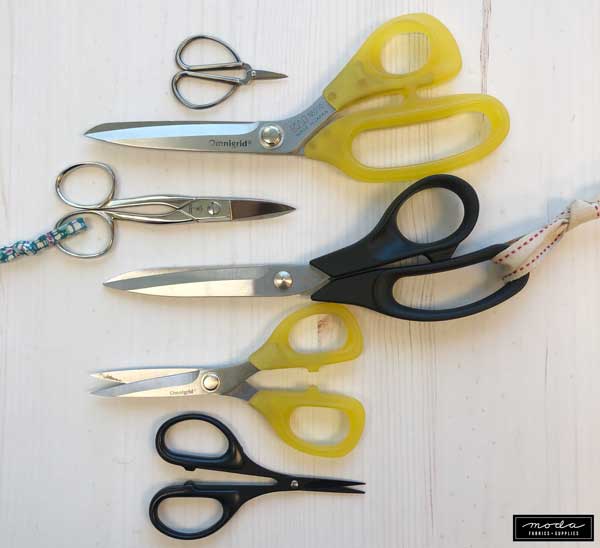 Scissors.  No matter what kind of sewing you do, you're going to want these three types of scissors. 
Dressmakers shears.  Even if you'll never make a dress, these are 7" to 8" all-purpose scissors that are used regularly for cutting fabric, interfacing, and batting.  As with most tools, get the best quality you can as they will last.  If you have any of the aforementioned hand-issues, look for a pair that are designed to make cutting easier - e.g., Easy Action Scissors.
5" scissors.  These come in a variety of styles, including decorative, all metal, with plastic handles, or with serrated blades.  Whichever style you choose, these scissors will be used mostly for trimming seams, clipping curves and snipping into corners.  They should be sharp at the tips.
4" scissors or snips.  These are the scissors you'll keep by your sewing machine.  They're best for cutting threads on your sewing, and to have a fresh tip to thread the needle.  (Lucky you if your machine has - and know how to use - an automatic needle-threader.)  The key here is finding something that is easy and comfortable for you to use, that feels good in your hand.  That's why some sewists love snips while others don't. 
That tiny pair at the top?  They're cute, and they're a nice addition to a "take it with you" sewing bag.  As cute as they are, it won't be tragic if they're lost.
The funny-looking pair that's third down from the top - those are my favorite by-the-sewing-machine scissors.  They're called buttonhole scissors and they were developed for tailoring, specifically for cutting through layers of wool.  They're sharp at the tip, and they're beautiful for clipping seams, cutting close to the fabric, and for snipping threads.  I included them to prove that you need what feels comfortable to you.  
Marking tools.  Sewing pencils, chalk, that "magical" blue marker, and permanent markers.  From marking the "match this up here" point on a seam to drawing lines to make half-triangle squares, we make a lot of marks on fabric.  The placement of buttonholes and buttons, the fold-lines for pleats, the squares to be cut for box corners on a zipper bag, are all made easy with a marker of some kind.  The marking tools that made our list are:
Rulers.  No matter what kind of sewing you're doing, you'll need a few small rulers.  And a measuring tape. 
Measuring tape.  A dressmaker's tape even if you don't sew garments.  (Try measuring your head for a bike helmet using a rotary cutting ruler.)  And a flat metal measuring tape.  It will be used for measuring fabric and batting, and for measuring quilt tops.  (Get one for your sewing kit since the one in the kitchen "junk" drawer always disappears.)
Seam gauge - guide.  This seems like an odd choice but it's a multi-purpose kind of tool that I use regularly.  The sliding gauge makes it easy to measure a hem being pressed before stitching, or the placement line for an embellishment.
Seam guide.  Even with the marks on your sewing machine, a simple seam guide is the best way to ensure accuracy.
Cleaning Tools.  Cleaning your sewing machine regularly is a must.  Your cleaning tools should include - a soft brush or microfiber swabs, a microfiber cloth, and sewing machine oil.  To read more - Sewing Machine Care.
Seam Ripper.  There are a dozen different kinds in a variety of sizes - seam rippers.  The key is finding the one that fits your hand, and your stitching.  I tend to have small-ish stitches so I prefer seam rippers with a finer tip.  I also use the inner blade of the seam ripper so I like one that is sharp.  That's why the "white Clover seam ripper" is my favorite - I buy them by the box.  (Of course I also break the tip off when I use the seam ripper as a screwdriver or pryer-opener.)  And I wear them out.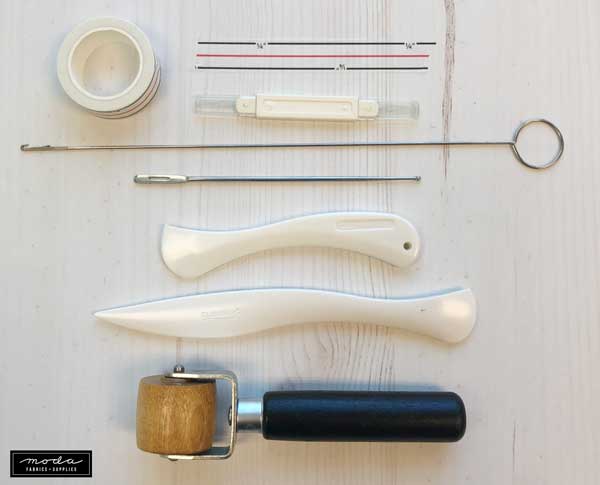 Tools.  Point turners, Hera Markers, Magnetic Pin Wands. 
Point 2 Point Turner by Clover - this has a point turner at one end, and a Hera Marker at the other end.  And the 7" length makes it easy to handle.  It's one of my favorite tools.
Extras.  Boxes and baskets, trays and caddys, you'll need something to keep everything organized.  Re-purpose sturdy gift boxes and under-used baskets, and use a pretty mug or empty candle-jar for pencils and markers.  You can't use what you can't find easyly.  And if your sewing space is the kitchen table, you'll need an easy way to put it away while still keeping it together and organized. 
So what did I forget?
What tool would you include as a must-have someone outfitting their sewing kit?
Have a good weekend and stay safe.